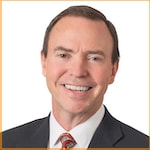 Chicago, IL
•
Brookfield, WI
•
Omaha, NE
800-525-2922 (Office) • 312-953-1611 (Mobile)
888-809-9862 (Fax)
Email:
don@settlementtaxgroup.com
​Introduction
Don has been a settlement consultant since 1996. His focus is tax-efficient settlements. He is now a primary resource across the country for plaintiff attorneys, defense attorneys, self-insured companies, insurance companies, brokers, and TPAs. Don's expertise has recently allowed him to expand his service to assist with cutting-edge deferred compensation strategies and dispositions of businesses and real estate. Prior to his focus on settlements, Don worked in financial services. His skills gained while working in the financial arena, along with his 25-plus years of experience working in the settlement industry, add up to proven results for Don's clients.
Sponsorships
Illinois Trial Lawyers Association
​Certifications
Certified Life Underwriter (CLU)
Associate in Claims (AIC)
Certified Structured Settlement Consultant (CSSC)
Memberships/Sponsorships - Through Ringler Associates
Member, National Structured Settlement Trade Association (NSSTA)
Member, Society of Settlement Planners
Member, Professional Liability Defense Federation
Sponsor, Workers' Injury Law and Advocacy Group

Sponsor, ALFA International
Sponsor, The Skyline Group
Sponsor, Kid's Chance of Wisconsin
Education
B.A., Marquette University
​Personal Information:
​Don is happily married with three grown children and two dogs. His interests include basketball, golf, tennis, yoga, and the tax code.
---
---